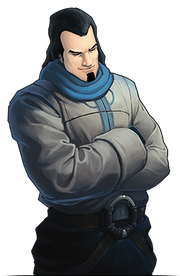 EIRIK
Son of a Citadel nobleman, Eirik distinguished himself amongst the other young warriors of the Citadel by his charisma and intelligence. Although weak in a fight, Eirik was cunning, and his performance as leader and mind for strategy pushed him through the ranks and caught King Ingvar's attention.
Ingvar, seeing great potential in Eirik, promoted him to General, the youngest yet in the short history of the Citadel. After a fateful battle, where Eirik meets Kari and Asgeir, he is betrayed and left for dead.
He later becomes the leader of a resistance group determined to end Ingvar's reign.
Ad blocker interference detected!
Wikia is a free-to-use site that makes money from advertising. We have a modified experience for viewers using ad blockers

Wikia is not accessible if you've made further modifications. Remove the custom ad blocker rule(s) and the page will load as expected.